If life's a parade, you'd better rock that runway! From character to body structure, everybody's born with special traits that make them unique. The more eclectic the mix, the better the pageant. And while people come in different shapes and forms, so do clothes.
Being comfortable in your own skin is essential to prance around with confidence and poise. To achieve that, you'll need to find outfits that highlight your body's best features. That can be tricky when you don't understand your body type.
This article aims to guide you through choosing a dress that will look and feel great to add an extra sparkle to your appearance. After reading this, we hope you'll have more clarity as to how to play up your style and celebrate your special attributes.
The five most common body types
While following trends is fun, feeling uncomfortable in the hottest garment can affect our self esteem. But remember that trends are focused on generalised perceptions of what's hot at the time, and that changes constantly depending on popular belief.
There isn't really a norm as to what a female body should look like. It all depends on each woman's genetic configuration, and biology doesn't care about fad. Yet there are some general categories that help the fashion industry in catering to different people.
These classifications can also give you some direction as to how to plan your wardrobe to make dressing up more enjoyable and rewarding. The most common ones are:
Apple (aka oval or round)
Pear (aka triangle)
Athletic (aka inverted triangle)
Rectangle (aka straight or banana)
Hourglass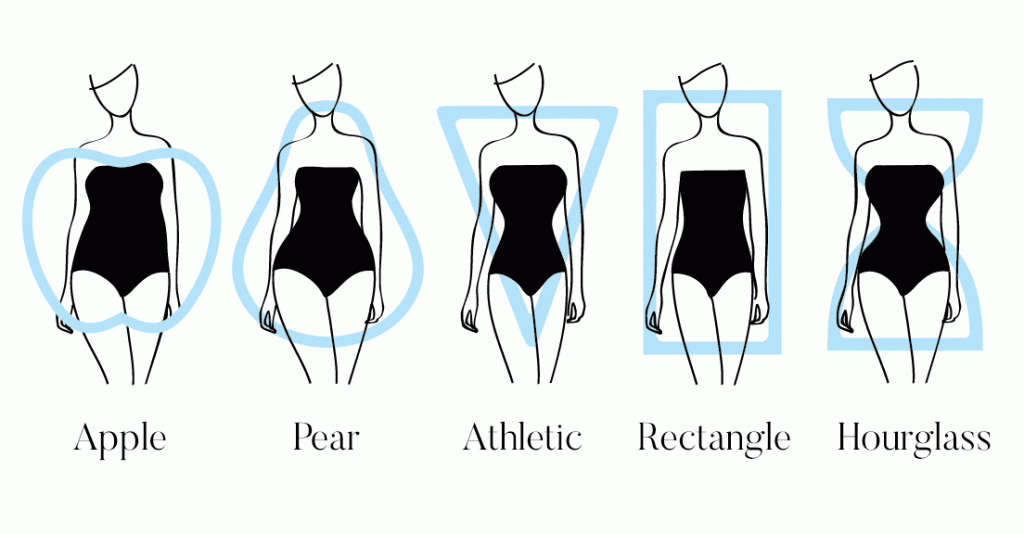 It's important to note that there is no globally accepted list of classifications. Some places will only use 4, while others up to 8 or 9. There can also be sub-types within these types listed above.
How to determine your body type
While your lifestyle and exercise can modify your silhouette, your bone structure, proportions and muscle distribution are mostly inherited. Body shape is based on those factors – not on your weight. Understanding and accepting your body type is a lovely step towards self-love. Dressing in accordance to your shape will help you find snug & flattering fits to carry yourself with confidence.
You might be able to figure out your body type just by looking at yourself in the mirror, but the best method is to take some measurements.
Shoulders: Stand up straight and relaxed, and wrap the measuring tape around the top of your shoulders, at their broadest point above the shoulder blades.
Bust: Stand normally, and wrap the measuring tape around the fullest part of your bust without compressing your chest.
Waist: Wrap the measuring tape around the narrowest part of your
waist, usually located just above the belly button.
Hips: Place the measuring tape around the fullest part of your hip, including the butt, just below your hip bones.
Now just plug your numbers into the calculator below, and voila!
The ATD Body Type Calculator
Complete all the values and click the CALCULATE button find out your body type
Your body type is:
We couldn't fit you into one of the main body type categories. Please check your measurements again. If they're correct, then you're probably in-between types or fall under one of the less common body types.
How to dress for each body type
Once you have done your calculations you will be able to assess, based on your widest measurement, which body type is closest to yours. There are many different shapes, but the ones generally recognized by the fashion industry are: apple, pear, hourglass, and rectangle shaped body types.
Apple Body Type
Shout out to curvy women with breath-taking upper bodies, whose thinner arms and legs want to be shown.
Also called round or oval body shape, an apple body shape is characterized by broad shoulders, large bust and smaller hips, with a waistline not clearly defined.
If this is you, focus on drawing attention to your legs with high heels and short skirts or ultra-high-waisted skinny jeans, and accentuating the shape of your breasts with A-line silhouettes and V-necks.
Wrap dresses, boyfriend button-ups, flowy tunics and any other dresses that either define or take attention away from the waist are a great fit.
Strapless and off-the-shoulder styles also look amazing on an apple shaped body. Choose fabrics that sit close to your body but do not cling, such as silk, linen, tweed, gabardine and cotton.
Pear Body Type
Hips don't lie! The pear shape's waist/hip ratio will turn the heads of every man and woman.
Also called spoon or triangle-shaped body, pear body shapes feature wider hips and thighs, and smaller shoulders and bust measurements. These bodies usually present narrow waistlines in comparison to the hips, as well as long, slim arms.
If this is your body type, you could divert the attention away from your hips with full skirt dresses or embellished necklines. Highlight the waist, back or neckline with fun top shapes, open backs, big sleeves and belted styles.
A-line and maxi dresses are very flattering for women with this body type, especially with hemlines falling just below the knee.
Rectangle Body Type
Anything looks good on this body type!
Also called straight or athletic body type, a rectangle body shape presents fairly uniform measurements with rather straight waistlines. Women with rectangle shaped bodies can play around with the features they wish to highlight to create the desired balance.
If you want to accentuate your lower body, rectangles can pull off most statement-styled bottoms. Add volume with flowy pleating, colorful prints or funky flares.
If you choose to focus on the top half of your body, try to draw attention to your arms and shoulders, highlighting your waist. Curvy rectangles look great with crew, cowl or V-neck tops, while small busted rectangles can favor their upper body with embellished necklines or statement collars.
Since this body type is the most common one, almost any dress is designed to fit a rectangular frame. Consider exploring different sleeve types, cinched waistlines and busy prints.
Athletic/Inverted Triangle Body Type
This type has great shoulders that are wider than your waist and hips. They often come with lovely, shapely legs.
Dressing for this type is all about balancing out your broad shoulders by drawing attention to your lower half.
Choose dress styles that add volume and attention to your hips and legs, such as styles with ruffles or pleats below the hips. This not only draws eyes down from the upper body but can create a more defined waistline.
A dress (or top) with the right neckline can also work wonders for you. Deep & narrow is the way to go here and you should avoid wide, square necklines and off-the-shoulder styles.
Hourglass Body Type
With curvy proportions and a defined waist, this body type is a rare, hot pearl.
These are curvy body types with even bust and hip measurements, and significantly narrower waistlines. There are some variations including top hourglass figures where the bust is bigger than the hips, like an inverted triangle with a defined waist.
If you are within the small percentage of women with this body type, you should show off your waist and accentuate your curves. Wrap dresses, jumpsuits, sheaths and fit-and-flare styles with cinched waists are great for this naturally balanced body structure.
Wrapping Up
Dressing is about bringing out your own style and expressing it with pride. We hope this guide helps you strip off from any doubts and embrace your body to its full potential.
Keep in mind that these body types are general classifications – do not worry if you don't perfectly fit one category. Some bodies are more petite, others have taller frames, and others come in plus sizes.
Knowing your proportions will help you design a wardrobe that emphasizes your favourite parts of your body and balances your figure. You're already beautiful. Now it's up to you to explore and have fun!